FD-80 3-AXIS DUAL EYEWIRE SCANNER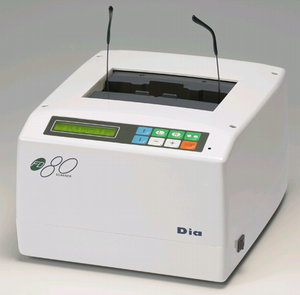 Automatic frame clamping and probe insert
Loading a frame is simple. Place the frame between the clamps and press a trace button. The rest is automatic! Both eyewires are traced in succession.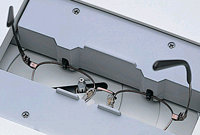 Frames, lenses and patterns
Tracing a lens or pattern is as simple as placing a block anywhere on a lens or pattern. The FD-80 will automatically select the lens tracing probe.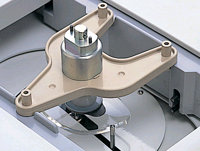 Boxed and decentered lens-shape data
Creates a perfectly boxed lens-shape data automatically or optionally creates a decentered lens-shape data if the patients Rx information is inputted.
Traces a frame as small as 18mm high.
Stores 100 jobs data (100 pairs of lens-shape data) in internal memory.
Specifications
Operation Medes
• Automatic both eyes / Single eye measurement
• Frame / Lens / Pattern tracing
• Variable tracing speeds
Range of Measurement
Frame:18mm(in height)-70mmφ Lens:15mm(in height)-70mmφ
Time of Tracing
• 38 seconds for measuring both eyes
• 22 seconds for lens or pattern
Data Ports
2)RS232C 1)RS232C with DC5V
Dimensions
280(W)x319(D)x180(H)mm
Weight
7kg
Power Requirements
24V DC, 20W (100-230V AC / 24V DC adapter attached)